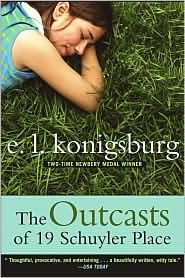 Summary
The Outcasts of 19 Schuyler Place
details one summer in the life of Margaret Rose. Margaret's parents leave for Peru for four weeks and place her in sleep away camp. At camp Margaret is bullied by campers and staff she responds with peaceful protest. Her refusal to participate in camp activities leads to her rescue by her Hungarian Great-uncle. For the remainder of the four weeks Margaret stays with her Uncles Alex and Maurice. Her uncles have spent four decades building decorative towers in their garden. Some consider the towers to be outsider art, others see them as eyesores. When the towers are condemned Margaret puts a plan into action that saves the towers from destruction.
Impressions
The Outcasts of 19 Schuyler Place
is a really great problem novel that wraps lots of issues neatly into one book. Margaret deals with bullying, her parents divorce, and a crush all while saving her uncles' towers. Margaret is a brave character who does some pretty amazing and adult things while Konigsburg shows us her inner vulnerability. This book is extremely well written and falls in line with empowering children's classics like
A Wrinkle in Time
.
Review: Kirkus Reviews
Master novelist Konigsburg hones her sense of irony to a razor edge in this exploration of the back story behind one of Silent to the Bone's secondary characters: Connor's older half-sister Margaret. Margaret, 12, has just been rescued from her authoritarian summer camp by her eccentric great-uncles. She is delighted to leave the tender offices of her vicious bunk-mates and the camp director's insistence on lockstep enjoyment of all camp activities; she is monumentally alarmed to discover that her beloved uncles' backyard Tower Garden, a fantasy of steel and glass, is slated for demolition, a victim of historical zoning. Determined to save the towers, Margaret begins a campaign informed by civil disobedience (in which camp has made her proficient: "I prefer not to," says she) and civic involvement. This story condescends not one whit to its audience, passionately confronting readers with the critical importance of history, art, beauty, community, love, and, above all, the necessity to invest oneself in meaningful action. This it does with every word in place, occasionally indulging in dizzying linguistic riffs, always conscious of the ironies inherent in the acts of living and growing up.
Suggested Activities
I would include
The Outcasts of 19 Schuyler Place
in a display with books about protest and social justice. Other titles would include
Claudette Colvin: Twice Toward Justice
and
Esperanza Rising
.
Bibliography
Konigsburg, E.L. (2004)
The Outcasts of 19 Schuyler Place
. New York: Simon Atheneum Books for Young Readers. ISBN: 0689866364.
[Review of the book
The Outcasts of 19 Schuyler
Place by E.L. Konigsburg].
Kirkus Reviews
, 71(24), 1451-1451.